Last Updated: February 16th, 2018 by: UtahTrails
The Powder Mountain Brim trail is a beautiful trail with stunning views of the Ogden Valley and beyond. Overall the trail is not very technical, but there are a few rock gardens that beginners might want to walk their bike through. Additionally, there are a few A/B options that provide more entertainment for intermediate and advanced riders. This trail can be ridden as a standalone loop in either direction or can be incorporated into a much larger trail by including other trails in the area.
When riding the Powder Mountain Brim Trail counterclockwise it starts out with a nice downhill that is flowy and has several small jumps. I found myself catching air somewhat easily and even unexpectedly. You will encounter your first rock garden that is pretty smooth and not terribly difficult. It is more of a "mind over matter" exercise and can be ridden by most beginners. Throughout the ride you will travel between beautiful alpine forests and wide open vistas. You will finish the ride with an uphill push back to the trail beginning. There is a "shortcut" midway that cuts the ride distance by a small amount.
Overall this is a very fun trail with great scenery, a blend of riding options and is well maintained. The best part is that Powder Mountain doesn't charge you to ride their trails. There are only 2 downsides to this trail. The first is getting to the resort itself, but it is a lot easier in the summer months than in the winter months. the second is no matter which direction you ride, you will be pedaling uphill back to your car. It's not a grueling long uphill, but it is uphill.
Powder Mountain Brim Trail Map
On the day we rode this it was part of a larger ride that started with Paper Airplane followed by Baggage Claim onto Brim. Therefore this map does not represent the trail start from the parking lot.
Total distance: 6.87 mi
Max elevation: 8632 ft
Min elevation: 8240 ft
Total climbing: 1488 ft
Total descent: -1345 ft

Directions to Trailhead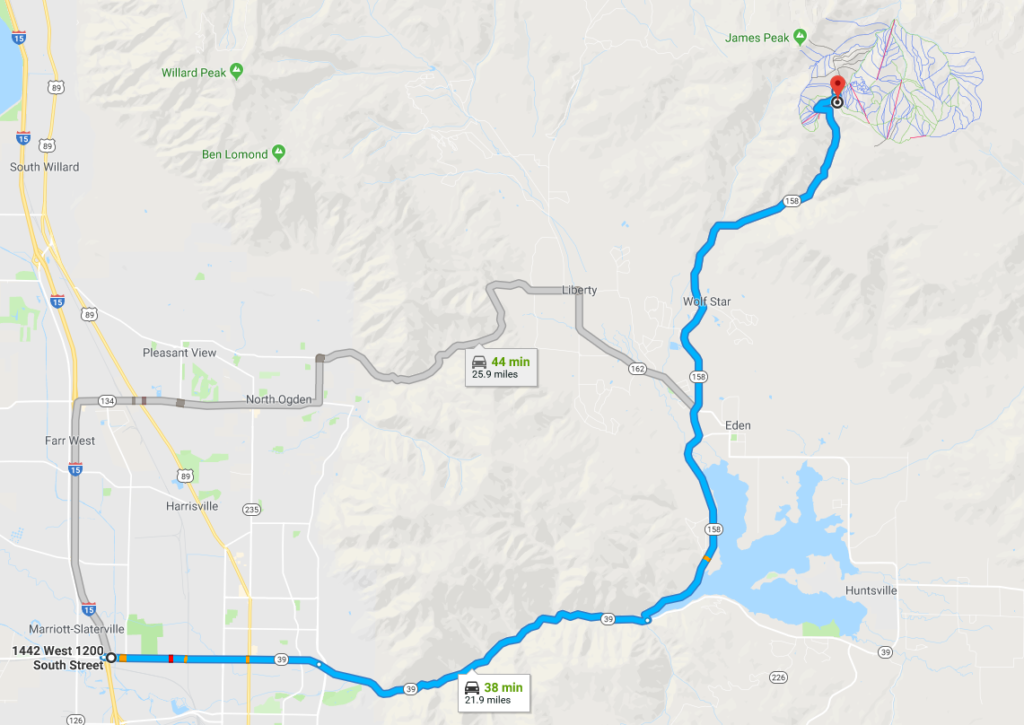 (NOTE: Map is the the main lodge of Powder Mountain – see directions below for trail specific directions and parking)
From I-15 take the Ogden 12th Street Exit and travel East to and through the Canyon.
Turn Left at the top of the canyon to travel across the Pineview Reservoir dam.
At the 4-way stop continue straight through the intersection and follow the road up the canyon to Powder Mountain Ski area.
At Powder Mountain there is a road that turns right by the main lodge – follow that road to the end for the trail.
There is not a formal parking area for the tail – you will park on the sides of the road.
Trail images