Last Updated: February 16th, 2018 by: UtahTrails
Wheeler Creek – Pineview to Art Nord Trail is a rocky but wide double track trail in Ogden Canyon near Ogden and Huntsville in Northern Utah. This trail is a good starting point for many of the Wheeler Creek and Ice Box Canyon trails found in the area.
Trail Closure Alert
Starting in September, 2019, Ogden City will be rebuilding the old Wheeler Creek Diversion. A portion of the Wheeler Creek Trail will be closed Monday through Friday beginning Monday, September 9th through December 1st, 2019. The trail will be re-opened for use on the weekends (Saturday and Sunday). All recreational activity will need to use alternative routes during the weekdays, as access will be closed below the trailhead near I-39 and the Ice Box Canyon Junction.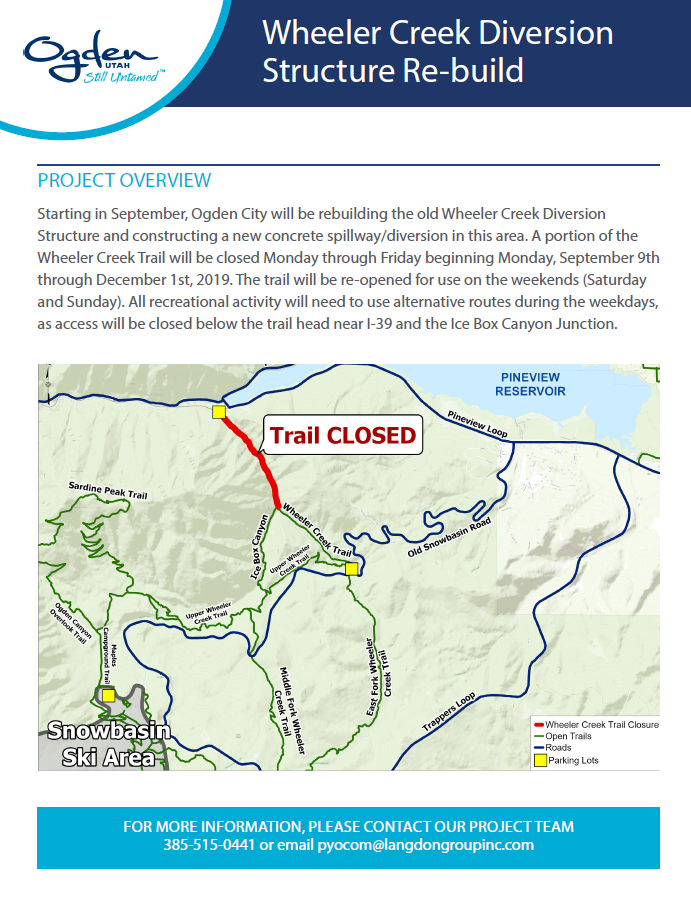 Share with your friends to keep them informed.
The trail parallels Wheeler Creek and is a great summer afternoon ride since it runs North – South. As a result this trail is mostly shady in the later afternoon. Coupled with the running water and slightly higher elevation, this trail is typically a good 10 or more degrees cooler than Ogden city. This makes this a popular trail with the locals.
From this trail you get a great view of Snowbasin as well as the famous "Z-Fold" rock formation in Ogden Canyon. There are some homes near the trailhead, so please be respectful and stay on the trail.
Additional trail options
Incorporate this trail with any of the other trails in the area to create a longer loop ride:
Trail Map
Total distance:
1.92 mi
Max elevation:
5489 ft
Min elevation:
4856 ft
Total climbing:
640 ft
Total descent:
-24 ft
Directions to Trail Head
From I-15 in Ogden take the 12th Street (UT39) exit and travel East into Ogden Canyon. If you want to ride from the bottom look for the small parking area on the right as you approach Pineview dam at the top of the canyon.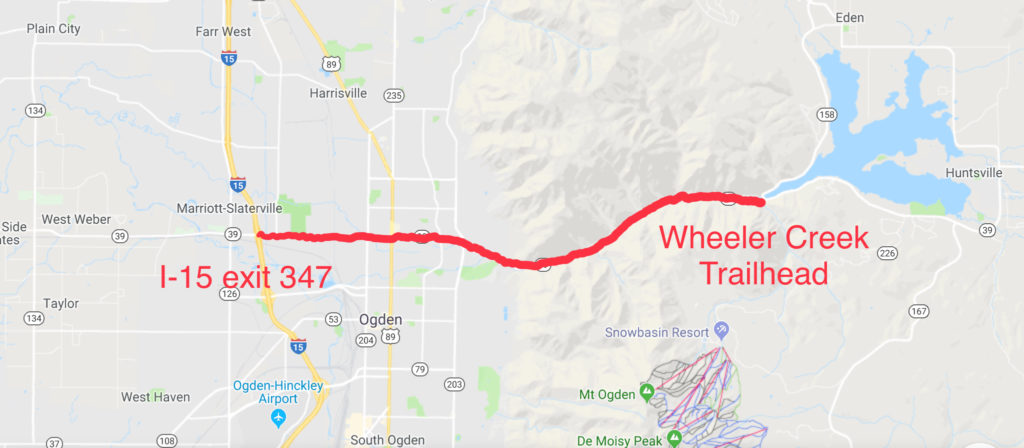 Trail Photos
Additional Trail Notes, Obstacles, etc.
This is a very popular trail with hikers and equestrians so watch your speed. You will also see quite a few pets on the trail, many dogs may not be on a leash. Coming downhill fast is not recommended due to the rough trail and numerous other trail users.
Trail Vlog