Last Updated: June 27th, 2019 by: UtahTrails
Baggage Claim at Powder Mountain serves as a connector trail from the Paper Airplane trail to the Brim Trail at Powder Mountain, Utah. The trail is flowy and fun in some places, but there is a section with a lot of switchbacks in it. There is some speculation on the best direction to ride it. On the day we rode we used it to connect from Paper Airplane on the North to Brim trail on the South as part of an 11-mile ride.
The trail itself isn't anything really exciting. it is mostly downhill when riding from Paper Airplane to where it intersects with Brim trail. From the intersection of Brim if you choose to ride it back up to the road it is an uphill ride. However, when looking to get in the miles at Powder Mountain it is a great option to stay on trail and avoid the pavement.
Baggage Claim Trail map
Total distance:
0.96 mi
Max elevation:
8626 ft
Min elevation:
8462 ft
Total climbing:
186 ft
Total descent:
-324 ft
Directions to Trailhead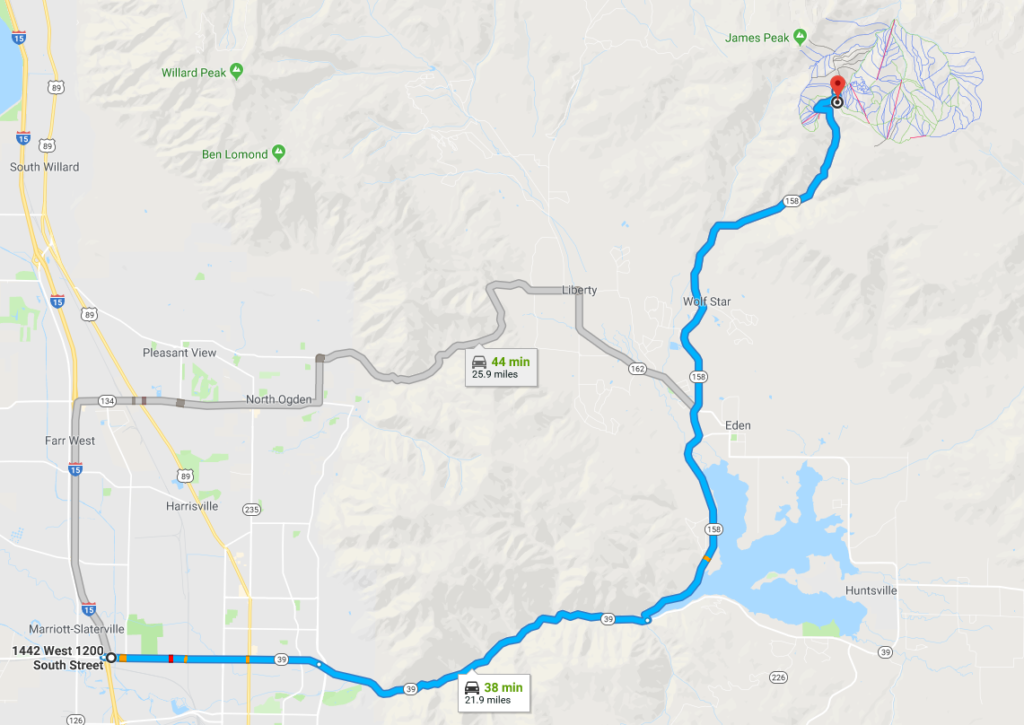 (NOTE: Map is the the main lodge of Powder Mountain – see directions below for trail specific directions and parking)
From I-15 take the Ogden 12th Street Exit and travel East to and through the Canyon.
Turn Left at the top of the canyon to travel across the Pineview Reservoir dam.
At the 4-way stop continue straight through the intersection and follow the road up the canyon to Powder Mountain Ski area.
At Powder Mountain there is a road that turns right by the main lodge – follow that road to the end for the trail.
There is not a formal parking area for the tail – you will park on the sides of the road. From there you can ride down the Brim trail to where Baggage Claim intersects with the trail.
Alternatively you can access the trail from Paper Airplane to be used as a bridge between Paper Airplane and Brim for a longer loop ride.