Last Updated: February 14th, 2018 by: UtahTrails
Icebox Canyon is a short stretch of trail found in the Wheeler Creek area just below Snowbasin ski resort. This trail is a little more challenging due to tight switchbacks, short/steep climbs and narrow passages between obstacles. the trail parallels the main fork of Wheeler Creek from the junction of the East Fork to the Main Fork Wheeler Creek Trail. the trail itself is very pretty and offers a nice break from the hot summer afternoon sun due to the North-South orientation of the canyon.
To access this trail you will need to use the Wheeler Creek Main Trail starting either at the trailhead near Pineview Resevoir. alternatively you can access this trail from the Art Nord trailhead on Old Snowbasin Road.
I have hiked this trail many times but my only riding experience was a night ride which made the trail even more difficult.
Trail Map
Coming soon, please check back again in the future.
Additional Trail Notes, obstacles, etc
This is a popular trail with Hikers and equestrians so be sure to watch your speed and control.
Directions to Trailhead
From I-15 in Ogden take the 12th Street (UT39) exit and travel East into Ogden Canyon. If you want to ride from the bottom look for the small parking area on the right as you approach Pineview dam at the top of the canyon. You will need to ride up the main fork of Wheeler Creek for about 2 miles. Look for the forest service sign pointing you to Ice Box canyon. The trail drops down a steep embankment but the trail itself is good. You will cross Wheeler Creek on a nice wooden bridge as you approach Ice Box Canyon.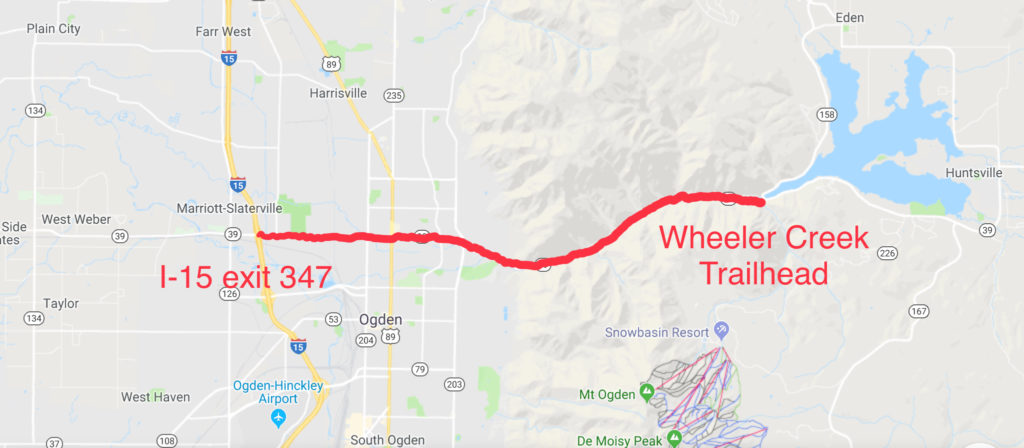 If you prefer to start at Art Nord trailhead continue past the dam to Old Snowbasin Road in Eden. Turn right onto Old Snowbasin road and look for the trailhead about a mile after the summit. You can see the trailhead from the summit below. there are restrooms and a large parking area. From here you can either ride down the Main Wheeler Creek trail until you reach where the trail splits to go to Ice Box Canyon. Alternatively, you can ride up the Main Wheeler Creek Trail. About 2 miles up the trail it will Fork and a forest service sign will point out Ice Box Canyon.