February 12th, 2018
Mule Ear is a trail with a decent climb on mostly dirt trail. There are a few sections of rock and several switchbacks on the south end of the trail. Overall this is a decent trail for a beginner but they may struggle with the climb in a few places if they do the trail from South to North due to climbing switchbacks with loose rocks.
The downhill is very fun with a good trail and only a few switchbacks when traveling the trail from South to North. If you travel from North to South the climb is easier, but the downhill has a lot more switchbacks and I don't think it is a fun.
The trail is mostly open but does have several stands of trees that you pass through as your ride. The trail does get rather warm on summer afternoons so this trail is best ridden on cool overcast days, or in the spring and fall (weather permitting).
This trail can be ridden as part of a loop by including Mule Shoe or the Mule Connector trail. Alternatively you can use the North Fork Park dirt road as your return option as well. I prefer to ride it as part of a loop starting with the Mule Shoe Trail and traveling in a clockwise direction.
Consider using this trail as part of a great trail combo in North Fork Park.
Trail Map
Total distance:
2.98 mi
Max elevation:
6519 ft
Min elevation:
5829 ft
Total climbing:
1061 ft
Total descent:
-865 ft
Directions to Trail Head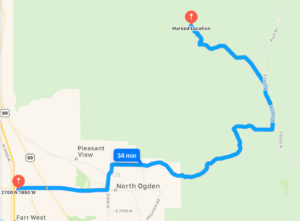 From I-15 take the Ogden 2700 North Exit and travel east
Continue on 2700 North to Washington Boulevard.
Turn North on Washington Boulevard and continue to 3100 North
At 3100North turn East on 3100 North and drive 6.7 miles up and over the North Ogden Divide.
Turn Morth on 3300 North for 1.5 Miles and then take the slight Left onto North Fork Road.
Follow North Fork Road and watch for the parking are on the east side of the road. You will pass the Mule Shoe/Mule Ear trailheads on the south side before you reach the parking. If you pass the Trials again you have driven about 20 feet too far.
Trail Photo Gallery