Last Updated: February 12th, 2018 by: UtahTrails
Mule shoe is a fun winding trail on the east side of the north fork campground road. It starts at the road and you ride down and then back up. The trail is very dusty with some short but steep sections, has a few tight switchbacks and large loose rocks that will challenge beginners.
This trail will pass through beautiful stands of trees and through open meadows. It can get quite hot here in the summer so this trail is best ridden earlier in the morning or in the spring and fall, weather permitting of course.
This is a multi use trail that is popular with hikers and equestrians as well so be sure to watch your speed and pay attention for others.
Mule Shoe can be ridden in conjunction with the Mule Ear or Mule Connector trails. These options will extend the miles and add quite a bit of elevation to your ride. Additionally you can use the North Fork dirt road for your return if you like.
Note: The video and map below show Mule Ear prior to a trail name change. Previously Mule Ear was the entire trail depicted here, however, once Cinch was completed, Mule Ear now ends at the second junction with Cinch. We will be re-riding the trail again and updating the map and video accordingly in the near future.
Trail Map
Total distance:
2.26 mi
Max elevation:
5970 ft
Min elevation:
5607 ft
Total climbing:
604 ft
Total descent:
-771 ft
Directions to Trailhead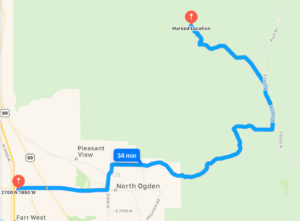 From I-15 take the Ogden 2700 North Exit and travel east
Continue on 2700 North to Washington Boulevard.
Turn North on Washington Boulevard and continue to 3100 North
At 3100North turn East on 3100 North and drive 6.7 miles up and over the North Ogden Divide.
Turn Morth on 3300 North for 1.5 Miles and then take the slight Left onto North Fork Road.
Follow North Fork Road and watch for the parking are on the east side of the road. You will pass the Mule Shoe/Mule Ear trailheads on the south side before you reach the parking. If you pass the Trials again you have driven about 20 feet too far.
Trail Pictures