Last Updated: May 28th, 2018 by: UtahTrails
Trail 365 is a new for 2018 trail in the North Fork Park area of Weber County. The trail is a lot of fun and reminds me of the old BMX trails I rode in the 80's.  For instance, the trail  features wide sweeping berms, a smooth packed surface and lots of fun rollers like a small roller coaster. This trail is a great place for beginners to learn some basic skills and get comfortable with their bike, but yet fun for the more advanced riders as well.
This is a beautiful trail with some sections that are nicely wooded and other sections that are open. In the heat of summer the open sections of Trail 365 will be in full sun and will get very hot. The trail also features a beautiful pond about one-third the way from the start which makes a great place to stop and get hydrated and maybe pop an energy bar or whatever you are packing.
In 2019 the Pipeline trail was extended to Trail 365 and connects "Mules" (Mule Ear and Mule Shoe) in North Fork Park. Pipeline can also be used as a return to the parking by the yurt, making this a fun loop trail.
According to a trail builder I talked to this trail was designed and developed by IMBA. That would explain the smoothness and the wider singletrack design. The trail is planned to be a 4-season trail that fat bikes will be able to ride in the winter months. In addition the trail is also planned to be a part of a fat bike race event later this year.
Once Trail 365 connects to the Mules you will have an amazing opportunity to get in some miles that won't be crazy hard, require lots of technical skills nor will you need be in perfect race fitness.
Horses are not recommended on this trail. This is a popular trail for hikers going to the pond so please be careful and maintain control of your bike. Remember to yield to bikes and horses.
Prior to the trail being officially named there was a Strava segment that called Trail 365 "Bonnie & Clyde's Outlaw trail".
June 28, 2023 Update
The trail sections above the Spork cutoff and where it crosses the road is a bit chunkier than we remember when we rode it several years ago. It is not a bad kind of chunk, but the trail is not as smooth and flowing as it was initially. Also, the section below the Spork junction is getting a LOT more traffic from all the riders heading to Spork. Please exercise caution when riding below the Spork cutoff.
Trail Map
Total distance:
2.32 mi
Max elevation:
5786 ft
Min elevation:
5535 ft
Total climbing:
571 ft
Total descent:
-464 ft
Directions to Trailhead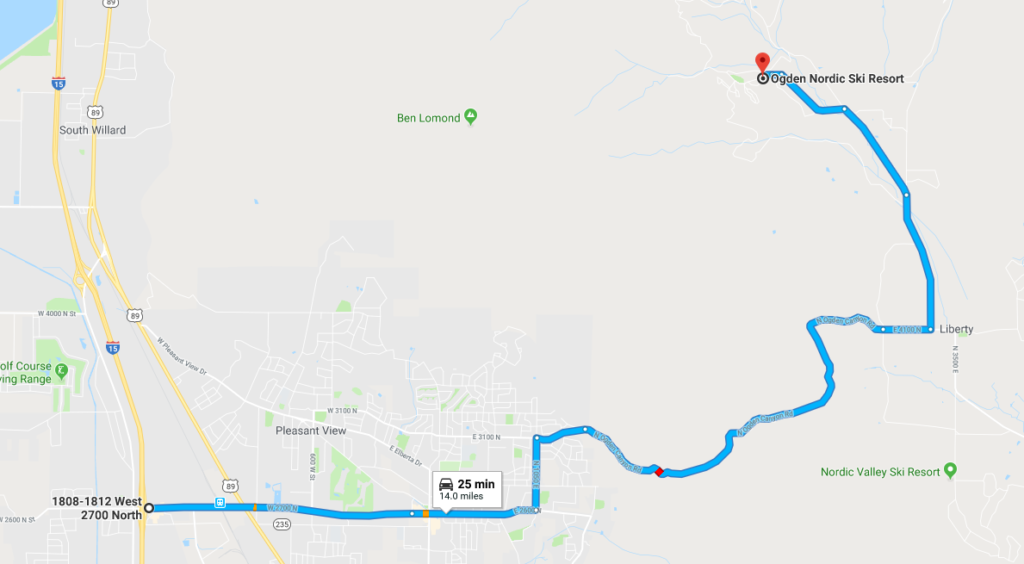 From I-15 take the Ogden 2700 North exit and travel East to 1050 East (2700 North becomes 2600 North)
Turn Left on 1050 East and proceed to 3100 North.
Make a Right turn on 3100 North and follow the road up and over the North Ogden Divide to 3300 East
Turn Left on 3300 East and continue to the North Fork Road split
Go Left at the North Fork Road Split and continue to 5950 North
Turn Left on 5950 North and drive until you see the Yurt near the gate for North Fork Park. Park in the parking area by the Yurt and look for the trail on the left as you start on the dirt road toward the baseball field at the south end of the parking lot
Trail Photos