Last Updated: February 12th, 2018 by: UtahTrails
Wheeler Creek East Fork is a good section of trail that is part of the overall Wheeler Creek area. This section of trail runs between the Art Nord trailhead and the Green Pond trailhead just below Snowbasin Ski Area.
This trail can be ridden as part of several loop options including the Middle Fork of Wheeler Creek, or you can continue on to the Green Pond trail into Snowbasin ski area and then connect with the Main fork of Wheeler Creek back to the Art Nord Trail head, or continue down to the bottom of Wheeler Creek by Pineview Dam, with an additional option through Ice Box Canyon if you are up for a more challenging ride.
This is a fun trail that crosses several wooden bridges and passes a few Beaver ponds. You will likely encounter wildlife on the trail including Moose, Wild Turkey and Deer. There is also a strong possibility you will pass cows and other livestock as well.
Trail Map
Total distance:
2.94 mi
Max elevation:
6207 ft
Min elevation:
5483 ft
Total climbing:
1003 ft
Total descent:
-291 ft
Trail Photos
Directions to Trailhead
From I-15 take the Ogden 12th Street exit (exit 347) and travel East into Ogden Canyon.
Continue through the Canyon and turn right onto Old Snowbasin Road.
Follow Old Snowbasin Road until you arrive at the trailhead. There are restrooms at the trailhead and a decent sized parking area.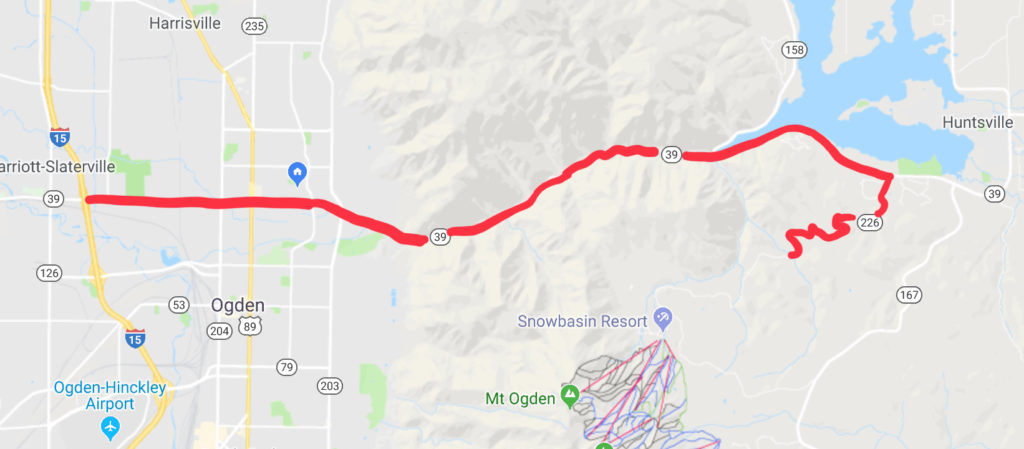 Alternatively be sure to check out the Wheeler Creek Pineview to Art Nord trail if you want to incorporate the lower section from Pineview Dam to Art Nord trailhead.
Additional Trail Information, Obstacles, etc
This is a popular trail for not only mountain bikers, but also hikers, walkers and equestrians, so be sure to keep your speed in check and approach the few blind corners carefully.
I have ridden(and hiked) this trail many times and enjoy it very much. Distance and elevation data is coming soon.