Last Updated: February 21st, 2018 by: UtahTrails
The Ben Lomond trail is located near Liberty in Northern Utah. The trail is a very long and sustained climb almost 3000 vertical feet. It is also quite narrow and somewhat overgrown in places. The trail begins in North Fork Park and is very popular with equestrians. NOTE: Mountain bikes and e-bikes are not recommended on the trail.

The lower section of the trail is the worst of it. There are many open stretches without much shade to protect you from the heat of the sun. There are many soft sand and loose rock sections as well. As you reach the upper part of the trail it becomes more tree lined and covered.
Ben Lomond is a popular day hiking trail so be sure to watch for hikers as well as horses. Most hikers only go as far as Bailey Cabin Spring as the final approach to Ben Lomond Peak is very steep and very rocky. If you decide to go to the top, be sure to sign the peak register.
If you want to ride your bike to Ben Lomond Peak, you can ride the skyline trail from the North Ogden Divide. The Skyline trail is also open to motorcycles.
.
Trail Map
Total distance:
6.19 mi
Max elevation:
8694 ft
Min elevation:
5682 ft
Total climbing:
3390 ft
Total descent:
-382 ft
Directions to Trailhead
From I-15 take the 12th Street Exit in Ogden and turn East.
Continue on 12th street as it enters Ogden Canyon.
Proceed up the Canyon until you reach Pineview Resevoir
Turn Left and cross the Pineview Resevoir Dam (State Road 158)
When you reach the intersection of State Road 158 and 162 turn left
Stay on 162 until 4100 North in Liberty. Turn Left.
Turn Right on 3300 East
When you reach the fork in the road continue left
Turn left at the North Fork Park sign
Turn left toward the stables, then continue until you see a metal horse corral on your right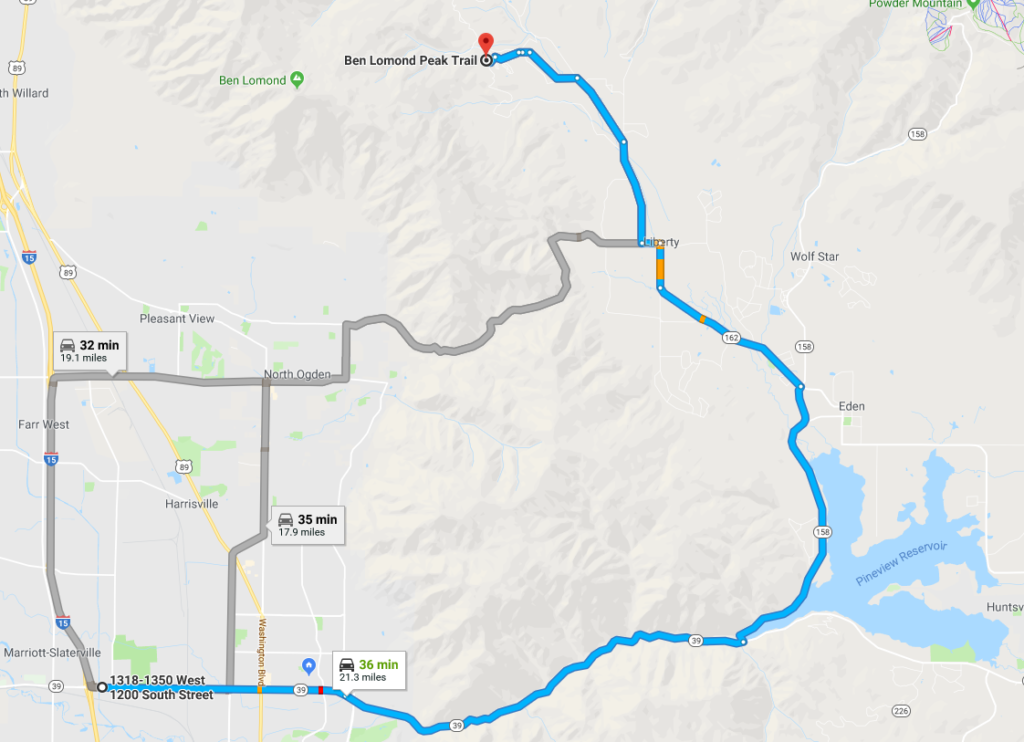 Additional Trail Info, Obstacles, Etc
This is a popular trail so be sure to watch for horses as well as wildlife. Moose are frequently encountered on this trail.