Last Updated: June 8th, 2020 by: UtahTrails
This is a trail that was completed in the summer of 2020 in North Fork Park near Eden, Utah. The trail can be ridden starting at Mule Shoe on the north end where it starts, or you can pedal up the Ben Lomond Fire Road, or you can start where it connects to Mule Shoe after crossing the main road.
This trail features some fun high banked berms, a few A/B lines with rocks and jumps and a couple of re-purposed picnic tables that are great drops.
This trail is primarily a downhill trail for bikes. Options for riding this trail are many. Once you complete the trail you can either return using Mule Ear or you can take Cinch to extend your ride into a nice figure 8 and return on the mule connector, Mule Ear for extra miles and elevation, or ride back on the dirt road.
Plans are for this trail to be maintained in the winter for fat tire bikes as well so it will be a 4-season option for the die hard riders.
There are signs indicating horses are not recommended, but that doesn't guarantee you won't find a horse or two on the trail. However, with all the twists and turns I don't think horseback riders will find this trail very much fun for them.
Total distance:
1.67 mi
Max elevation:
6066 ft
Min elevation:
5727 ft
Total climbing:
348 ft
Total descent:
-611 ft
Directions to Trailhead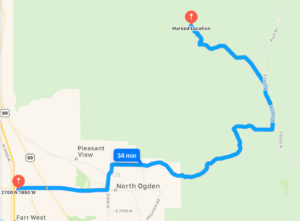 From I-15 take the Ogden 2700 North Exit and travel east
Continue on 2700 North to Washington Boulevard.
Turn North on Washington Boulevard and continue to 3100 North
At 3100North turn East on 3100 North and drive 6.7 miles up and over the North Ogden Divide.
Turn Morth on 3300 North for 1.5 Miles and then take the slight Left onto North Fork Road.
Follow North Fork Road and watch for the parking are on the east side of the road. You will pass the Mule Shoe/Mule Ear trailheads on the south side before you reach the parking. If you pass the Trials again you have driven about 20 feet too far.